The Goods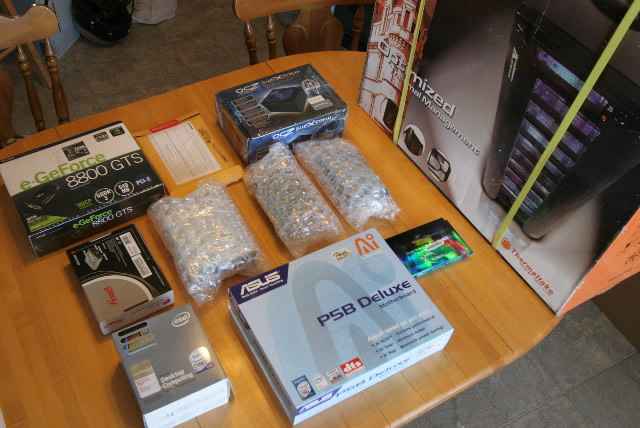 So here's a shot of the recently purchased items. I got almost everything from either NewEgg.com or ZipZoomfly.com. They usually have competitive prices (sometimes the lowest) but the main reason I buy from them is because I've never had a problem with them, and they ship stuff out fast. I bought the CPU cooler from Xoxide.com though, because at the time of the order, they were one of the only places that had it in stock.
A few details about the items I decided on: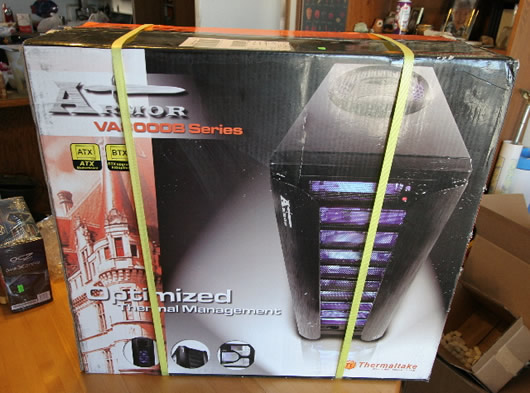 Case: Thermaltake Armor VA8000. There were a few things I liked about this case, mainly it's large size, the view window on the side, the completely customizable front panel, and the USB and audio connectors on top of the case. It also had good reviews, and is well made.
Power supply: OCZ GameXStream OCZ600GXSSLI ATX12V 600W Power Supply 100. I was originally going with a different PSU, but somebody in a forum recommended this one instead. It also had good reviews.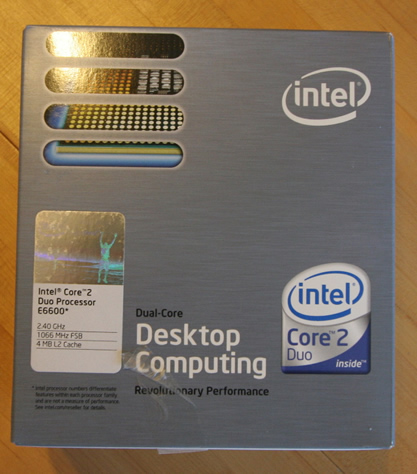 CPU: Intel Core 2 Duo E6600. This was an easy decision…it seemed like everywhere I went while researching, this CPU kept coming up as one of the best currently available. I'll add that this is not the fastest chip currently available, because I rarely buy the fastest. The extra money you would spend to get the absolute fastest out there isn't worth it in my opinion. That money could be better spent elsewhere.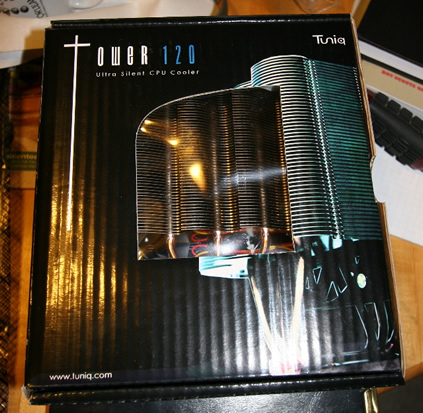 CPU Cooler: Sunbeam / Tuniq Tower T-120. This got great reviews, and the price wasn't bad. You could just use the cooler that comes with the CPU kit, but cooling is so important that I don't mind spending a little extra for really good cooling.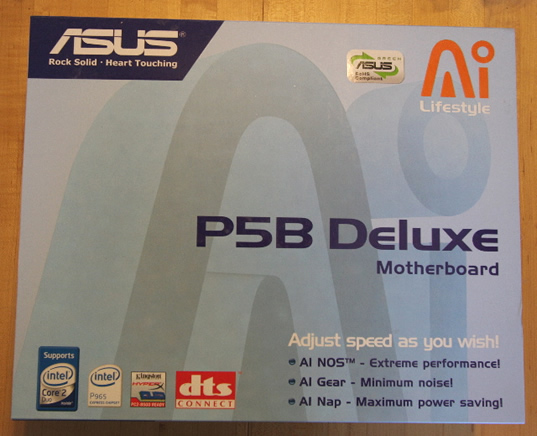 Motherboard: Asus P5B-Deluxe. This was one of the best-reviewed motherboards I could find for the 775 socket set. I was looking for a board that had 2 PCI-E 16 slots for future graphics card expansion, 4 memory slots, plenty of SATA connectors, and plenty of USB connectors. I've also had good luck with ASUS boards in the past.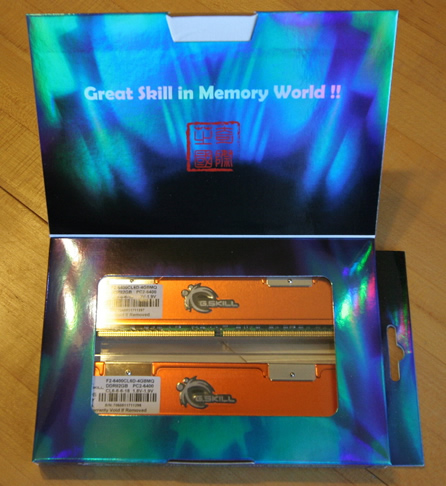 RAM: G.SKILL 4GB (2 x 2GB) 240-Pin DDR2 SDRAM DDR2 800 To be honest, I'd never heard of G.Skill before. I usually go with Crucial or one of the other main name brand companies, but Crucial and the other major guys were way out of my price range. A 4 gig set from Crucial was over $800.00 at the time of this writing, and I got these for $429.00. I decided to go ahead with the G.Skill brand after I read a lot of positive reviews about their RAM.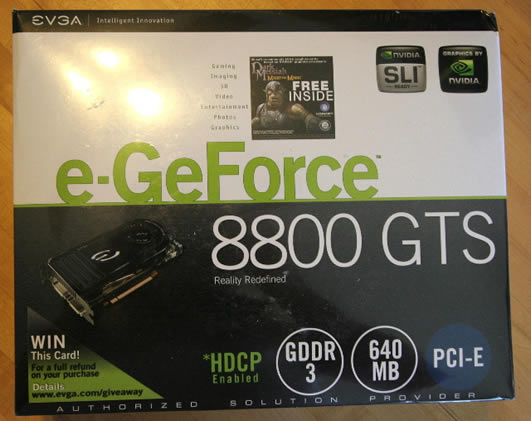 Graphics card: EVGA GeForce 8800GTS 640MB again, not the fastest out there right now (that would be the GeForce 8800 GTX or the ATI x1950 xtx cf). But it was very high up there in the speed charts, has 640 megs of RAM, and was $359.00 after a 30.00 rebate from NewEgg.com.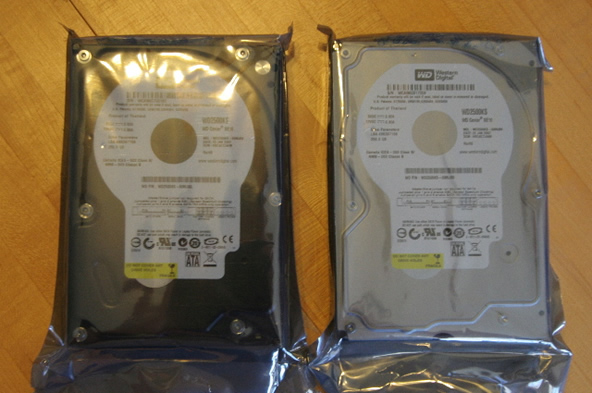 Hard drives: I've had good luck with Western Digital hard drives, so I went with 2 Western Digital Caviar SE16 WD2500KS 250GB drives. In my humble opinion, you should never buy just one drive. The easiest way to keep your important files backed up is to use something simple like Second Copy and have your important stuff from drive A copied nightly to drive B, and vice versa. That way when one of your drives crashes, you'll still have your important stuff on the other drive. Of course if your whole system explodes, you'll lose both drives, which is why it's important to keep your REALLY important stuff backed up to CD's or DVD's and preferably kept offsite.

DVD Drive: It's crazy how much the prices have dropped on these things. I got the Samsung 18x DVD SATA DVD burner, which supports all formats, including DVD-RAM and Dual Layer. It also has LightScribe technology for labeling. It was a whopping $41.00
Floppy drive: Say what? Yes, they're still used occasionally, although not very often. I decided to get one of those combo floppy drive/memory card readers. The Rosewill RCR-FD200 All-in-one USB 2.0 card reader/floppy drive. It reads CF cards, SD cards and Sony memory sticks. I use all of those formats in various cameras and the PSP, so that's cool. Oh yeah, and it reads floppies.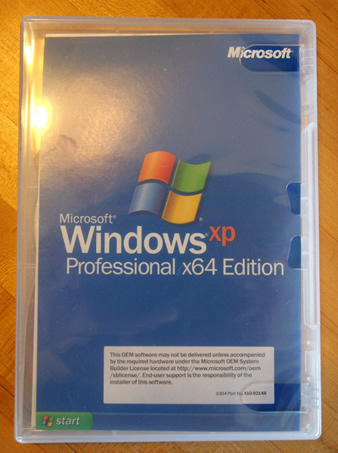 OS: Windows XP x64 Professional. I debated for a while about whether to go with XP or Vista, but decided to hold off on Vista until there are more drivers and better open GL support. XP will be fine for now, and I got a coupon with this OEM version of windows to upgrade to Vista for free with a coupon.